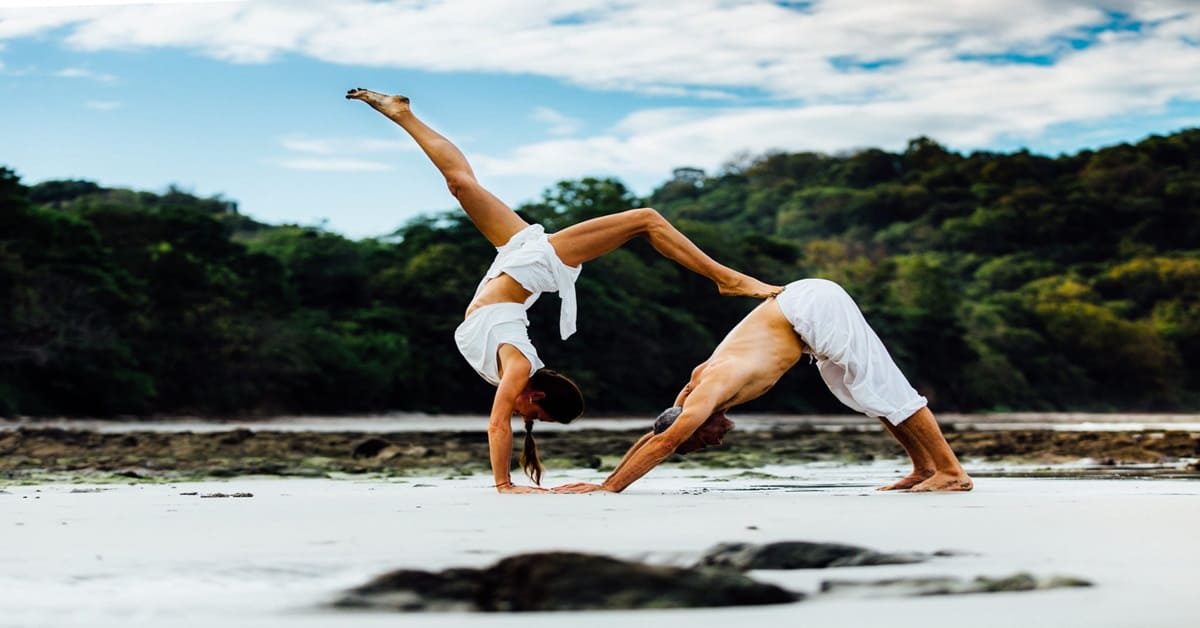 The fast-paced lives every human seems to be living in the 21st century inevitably calls for the practice of self-care. While it may take a variety of forms, the kind that tends to help the most is the physical, mental and spiritual one. How does one combine the three? You guessed it right – he explores the concept of yoga and meditation.
With the Indian discipline becoming a huge movement in the past decade, it can be overwhelming to get the hang of it without giving up halfway through. Yoga retreats were created for this exact reason – to cultivate a healthy relationship between your body and your mind through guided daily practices.
Certified yogis have the power instilled in them to help you align your energy-filled breath with physical movements and find the inner peace amidst the outside chaos.
Yogis who have been consistently practicing a spiritual practice are able to disconnect in an instant and meditate for hours at a time. This, certainly, takes time and patience, but mindfulness can be achieved with a single trip to a yoga retreat that will set the tone for the rest of your working year.
When on an exotic yoga getaway, you will have the opportunity to step back and take in the natural surroundings you don't pay attention to being in a hustle mode. Be it a beach location with vegan meals or a rainforest spot in a jungle with a juice cleanse, chances are you will feel mentally and physically replenished by the end of your stay.
Choose a retreat that fits your spiritual healing criteria the best – thanks to yoga being in vogue, finding one won't be an issue – and embark on a life-changing trip ASAP.
P.S. Take mental notes of the things you will encounter on your ethereal journey as your colleagues will surely want to follow your footsteps.
Price
---
Low
Medium
High\
Show only Nicks's favorite tools:
---
Yes
No
Frequently Asked Questions
How much does a yoga retreat cost?
It's not a secret that yoga retreats have become a profitable business as of recently. Don't be surprised – it's a simple supply that has to meet the high demand. This doesn't mean, however, that someone is trying to rip you off. Rather, this is a calculated fee that takes into account factors like destination, accommodation, meals, activities, and duration.
The more remote and exotic the yoga retreat destination is (think jungle in the midst of Costa Rica), the more costly it is. If you add the high demand for this location in the equation, you get quite a hefty sum.
Community housing and 5-star hotels will differ in price too. Sharing the treehouse with 3 other people will certainly be cheaper than having an entire hotel room with a private pool all to yourself. The availability of additional amenities like unlimited Wi-Fi and cleaning service inevitably raises the price as well.
Since yoga and Ayurveda are closely connected, yoga retreats tend to include vegan/vegetarian/raw/gluten-free meals more often than not. If they are included in the price, you are pretty much set and don't need to think about hitting grocery shops and spending time cooking. This also means that the price of the retreat is likely to be on the high spectrum.
A low-end yoga retreat will be composed of a few yoga sessions per day and a lot of free time, whereas a high-end yoga retreat will keep you occupied every minute of the day. Activities like zip-lining, spa massages, surfing lessons, and Ayurveda teachings will either make you pay extra on the spot or be reflected in the price of the retreat.
Yoga retreats that last less than 5 days tend to be cheaper and include less pre-paid activities. Take note of those that last longer than a week as they are usually more expensive and have a strict plan every member has to stick to.
Concluding the breakdown of the things you have to consider when choosing a retreat for your budget, we can say that retreats costing anywhere between $399-899 will suit anyone looking for a budget-friendly trip, while those costing $1500+ will best accommodate those seeking a once-in-a-lifetime kind of a spiritual experience.
Is a yoga retreat worth it?
It's only normal to hesitate before booking a yoga retreat somewhere in Bali for your only time off of work – they are an investment both from a financial perspective and a timing viewpoint. For this reason, you should carefully evaluate whether this is something you would be willing to take on or whether a quiet vacation on the beach in Greece makes more sense to you.
In case you come to the conclusion that a yoga retreat is just what you need at that moment in time, know that this journey will leave a significant footprint on you as a person. Imagine this – you are away from the bustling life and daily distractions like cell-phone buzz, office gossips, and digital news. You are connecting with nature and, most importantly, with yourself through thoughts that you tend to ignore most of the time. You are in a safe space where you are able to question the things that have been on your mind for the longest time and ponder what's next in store for you. Isn't this life-changing?
The time away from home in a location where you share spiritual practices with like-minded people is a healing experience in itself. You are put in the environment that naturally makes you address all the burning issues that have been piling up inside of you and are ready to be resolved. With qualified yoga teachers, pre-determined schedule and planned-out meals, you are bound to recharge your inner batteries and come back to your routine as a rejuvenated person with possibly new goals and ambitions. This practice tends to transform lives if you fully immerse yourself into the experience and let your mind relax and do its thing.
How do you prepare for a yoga retreat?
There is not much physical preparation as there is mental preparation that goes into getting ready to embark on your yoga retreat trip.
First off, you have to set your intentions right. That is, take time to think about what is your primary purpose for this trip and keep it in your head when at the retreat destination. It doesn't have to be anything transformative – a simple intent to reduce your stress, eat more balanced meals and learn a thing or two about Ayurveda is enough.
Second off, you might want to stretch your body a little before putting it under some pressure of everyday activities. There is no point in forcing yourself to become an athlete or a pilates guru in a span of a few months prior to a yoga retreat trip. Instead, focus on listening to your body when stretching and toning it as you go without pushing too hard. Basically, treat your body as a temple it is by bringing it to the state where you are confident in its ability to do some daily yoga practices.
Lastly, pack light and research about the destination where you will spend your time away from home. 'Less is more' is the motto perfectly applicable to yoga retreats and their holistic vibes. Depending on the time of the year, pack a few outfits you will feel comfortable meditating in and set your expectations right. You might find yourself overly excited about the upcoming trip, which is why it is crucial to calm your mind and get ready to share the experiences you had with your family and friends when you're back.